Collaboration tools have provided companies with a lifeboat, allowing employees to work from home in the midst of a pandemic. They make communication, idea sharing and collaboration on documents possible from anywhere. However, it's that same ease which also make it easy for data misuse or theft to occur due to negligence or malicious intent. There's a variety of DLP and security tools to aid in protecting documents, but there are ways to circumvent those systems. For instance, taking a snapshot of a document on your screen. Digital security watermarks offer a perfect solution to augment your information security practices, providing a visual deterrent to prevent data loss and aid in forensics.
Data Loss Has Risen Due to Remote Work
If you're not convinced you need additional security protocols, consider this latest data. Since the onset of COVID-19, companies are reporting sharp increases in data loss with a:
123% increase in data being copied to USB drives with 74% of that data marked as "classified"
49% increase in email attachments
42% increase of printing (at home)
24% increase of saving to home office network attached storage
While this may simply be a case of users trying to do their work, there's data that you don't want floating around your employees' homes. It could put your company information at risk or constitute a data breach if regulated information such as customer or employee details (PII), healthcare data (PHI), payment card data or insider information is accessed, saved or printed improperly.
Most companies heavily rely on user training to educate users on how to responsibly handle information and address mistakes. But training is easily forgotten or is deliberately circumvented by users trying to get their work done faster – and honest mistakes simply happen.
You need to be able to enforce business and regulatory policies, and track activities users take with sensitive information. Personalized watermarks can also provide another effective layer of protection.
Benefits of Using Digital Security Watermarks
Digital security watermarking of sensitive documents can help in a variety of ways:
It supplements user education and training relating to the safe handling of sensitive or proprietary information, providing users with an visual reminder of their responsibilities relating to the protection of the data.
By having a watermark in the body of the document, the user is deterred from taking a picture with their mobile device and sharing in an unauthorized manner or using it for malicious purposes.
Dynamic, Personalized Watermarks from NC Protect
NC Protect offers digital security watermarking that goes beyond just stamping a document as confidential.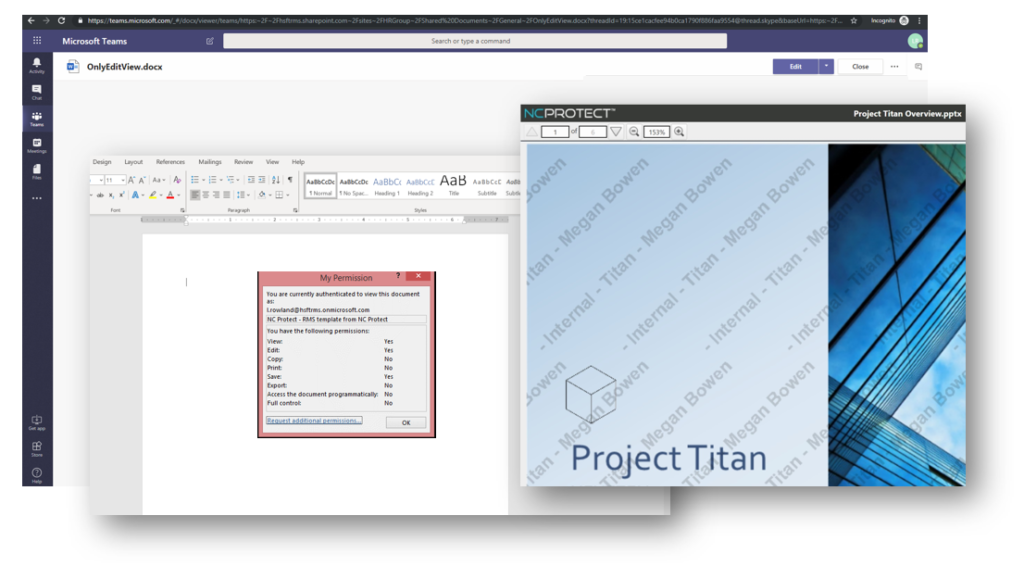 Benefits of NC Protect's Dynamic, Personalized Security Watermarks:
Adds a custom security watermark containing any user or file attributes, to sensitive and confidential Word, PowerPoint, Excel and PDF for security and auditing purposes.
Dynamically incorporates user attributes such as the user's name or email and the time and date that the file was accessed, creating a digital thumbprint that travels with the document.
Users can share and edit watermarked document contents, but not the watermark itself, for security and auditing purposes.
If a user chooses to photograph or print a document with a personalized NC Protect security watermark and use it for malicious purposes, it creates a digital thumbprint allowing investigators to identify the bad actor by name.
Ensure Secure, Read-only Access
Additionally, users can be forced to view sensitive documents in NC Protect's secure web viewer for read-only access. It prevents users from being able to download, copy or edit sensitive data. Combined with dynamic watermarks it deters users from taking photos of content and aids in tracking and forensics purposes in the event of a breach.
Get Advanced Information Protection
Remote work and collaboration tools are here to stay. Dynamic, digital security watermarking adds an addition layer of protection to safeguard your company's confidential and regulated data and avoid compliance issues.
Contact us to learn how easy it is to add dynamic digital security watermarks and other advanced information protection capabilities not available out-of-the-box to your data security arsenal.