secure CMMC & NIST Compliant collaboration for the Defense Industry
Defense Industry suppliers looking to do business US Department of Defense must now demonstrate compliance with CMMC and NIST 800-171. Kojensi provides a cost-effective, out of the box solution.
Secure CMMC CompLiant Information Sharing between US Defense & DIB
The US Department of Defense (DoD) must protect national interests. However, with multiple supply chain partners in different locations, sensitive and classified information is increasingly at risk of a breach or theft. Companies that work with the DoD will soon need to meet new security requirements to bid on contracts.
The Cybersecurity Maturity Model Certification (CMMC) is intended to serve as a verification mechanism to ensure that Defense Industry Base (DIB) companies implement appropriate cybersecurity practices and processes to protect Federal Contract Information (FCI) and Controlled Unclassified Information (CUI) within their unclassified networks as referenced by NIST 800-171 and NIST 800-53.
DIB organizations, in particular Small and Medium Enterprises (SMEs), often find it difficult to meet the strict security and compliance required of them by DoD. If they can't demonstrate compliance they are unable to compete for DoD business. The Kojensi platform for secure document management and collaboration provides a cost-effective, out of the box solution for CMMC and NIST compliant sensitive information sharing.
Kojensi allows the Defense Industry Base to:
Ensure CMMC information security requirements for FCI and CUI within unclassified networks are met as referenced by NIST 800-171 and NIST 800-53.
Instantly establish secure workspaces to collaborate across organisations, while ensuring only cleared users see sensitive information
Work with multiple people outside of the organisation, with different compliance and security requirements
Enable compliance with mandated security controls, inc. clearance, organization, nationality
Share large files easily and quickly, in a highly secure environment
Collaborate real-time on the same document, without having to send multiple versions through email
Challenge
DoD needs to work with a number of major Defense Industry suppliers to build the next general Naval vessel. Although major DIB suppliers have strong and established secure platforms, small or new suppliers may have limited secure facilities and information sharing procedures.
Under CMMC requirements these suppliers will be unable to bid on US Defense contracts, unless they can pass compliance.
Solution
By implementing a secure, multi-level security cloud service Defence Industry organizations consume the platform as they need, without the substantial costs of implementing new on-premises secured ICT infrastructure. Within minutes, they can set up a secure shared workspace and invite all their supply chain partners in to share and collaborate on the information required to carry out the project, knowing that they will only have access to information they are authorized to.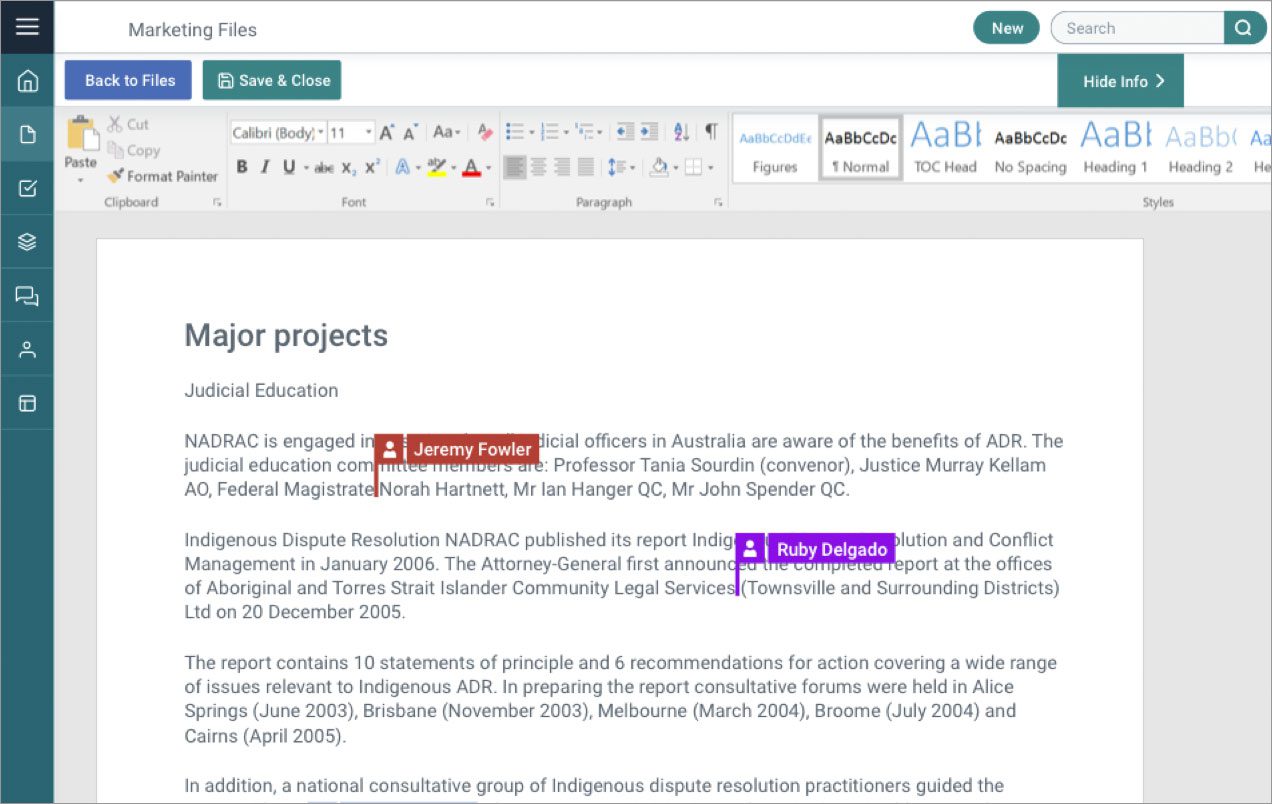 Securely share and co-author large files between Defence and Defence Industry partners
Information stays within a secure, multi-level security cloud service. Users can edit the files directly within each workspace to ensure the security, integrity and availability of the content. Users can upload multiple files at once or large files, and notify relevant parties that the information is now ready and available to access.
Empower users to share classified information simply and easily
Unlike other information sharing platforms, the Kojensi cloud service gives the power of sharing to your information custodians, not your ICT staff.
Users are empowered to set the terms and conditions on how and to who information is shared, by attributes including organisation, classification and nationality, ensuring only the right people have to access the right information at the right time.
Users can then create Community of Interest's in seconds and invite new partners to join within minutes, knowing they'll only have access to files that they are entitled to.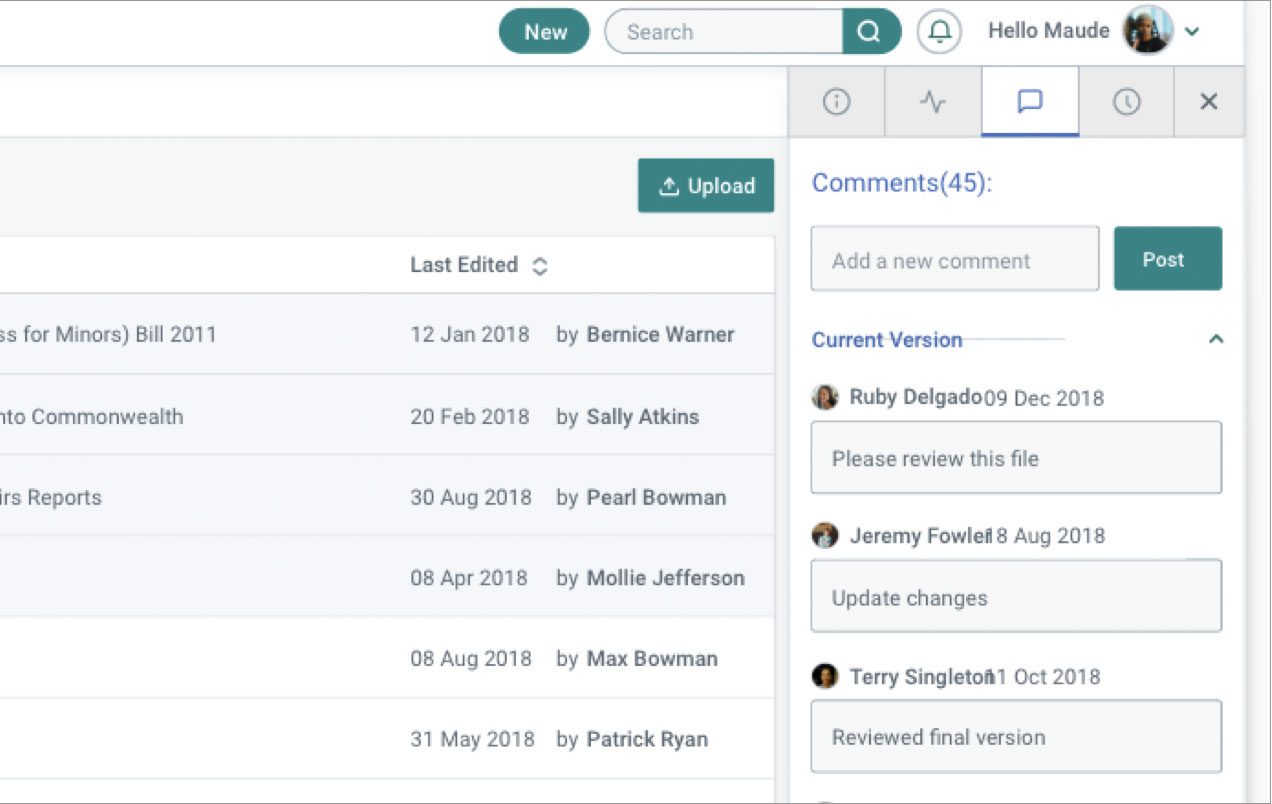 Comment on, discuss and track changes
Files can be commented on, discussions can be had within the workspace, and with Kojensi's integrated Content and Records Management platform, all file changes are fully version controlled and tracked.
Result
Kojensi provides secure access to and collaboration of Federal Contract Information (FCI) and Controlled Unclassified Information (CUI). Defense Industry organizations, in particular SMEs, now have an cost-effective means of ensuring the security of FCI and CUI that meets CMMC requirements. 
Kojensi provides Defense Industry Base organizations with secure CMMC compliant collaboration and information sharing
Available in a public or private cloud, on-premises or in a field-deployable appliance.