We're pleased to announce NC Protect has earned five finalist nominations in the 2020 Cybersecurity Excellence Awards for: Access Control, Application Security, Insider Threat Solution, Data-Centric Security, and Data Leakage Prevention (DLP).  
Awards honor individuals, products and companies that demonstrate excellence, innovation and leadership in information security. Finalist nominations in the category Cybersecurity Product / Service were based on the strength of the nomination and the popular vote by members of the Information Security Community (both ratings and comments). 
We're thrilled to earn finalist spots in not one, but five categories, with so many outstanding security products in the awards program. It's an honor to be recognized by the Cybersecurity Excellence Award judges for how NC Protect stands out amongst the other nominees with dynamic, data-centric security and access control that minimizes data loss and misuse across an entire organization.  
NC Protect is fully integrated with Microsoft Office 365, SharePoint, Teams, Yammer, Dropbox, and file shares. It works natively with Microsoft products and enhances security to restrict the use of Microsoft functionality, including elements of the SharePoint user interface, methods for viewing files, and encryption or restriction of attachments sent through Exchange Email. It requires no additional client-side application, reducing IT overhead and the risks involved in implementing new cloud services or BYOD policies.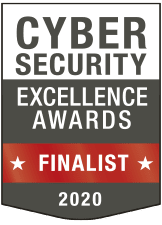 Nomination Categories
Browse our nominations for each category on the 2020 Cybersecurity Excellence Awards site:  
Winners of the 2020 Cybersecurity Excellence Awards in the company, product / service, industry solution, and professional categories will be announced starting February 19, 2020.   
Learn more about how NC Protect's leverages data-centric security to dynamically secure all your collaboration in Microsoft Office 365, including files and chats, including Teams, SharePoint, Exchange, OneDrive and Yammer, as well as content in Dropbox and file shares.