It may be the end of the year but we're still busy here at archTIS! We will be sponsoring and speaking at several events this week including 365 EduCon in Washington, DC and the CDSA Content Protection Summit in LA. Read on to see what we have in planned for these events and please stop by for a visit or a demo if you're attending.
365 EduCon (formerly SharePoint Fest)
Washington, DC │ December 14-16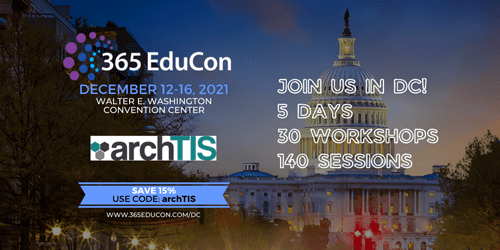 archTIS is a Gold Sponsor and will have a booth ready to demo NC Protect live at the365EduCon event.
We will be demonstrating how NC Protect provides advanced data-centric security for secure collaboration in Microsoft 365 applications that is simple, fast and scalable.
Dynamic Data Access and Protection in M365 apps & SharePoint On-Premises – See NC Protect's dynamic & unique data-centric protection features to ensure secure file access, usage and sharing.
Unique Security Capabilities for Microsoft Teams – Explore unique data protection features for Teams to ensure dynamic protection of file and chat content, guest access and advanced information barriers.
Audit & Track Access to Sensitive Data – See how NC Protect's dynamic classification and protection capabilities ensure compliance and provide auditing with integration into Microsoft Sentinel.
Our team would be happy to discuss our unique security capabilities further at the event.
Not registered yet? SAVE 15% on your ticket with Discount Code: archTIS
CDSA Content Protection Summit
Los Angeles │ December 16
archTIS is a Gold Sponsor and will be presenting a breakout session at the CDSA's Hybrid Content Protection Summit. Our team will be onsite at the live conference and online in the MESAverse to connect and answer your questions in person or online!
If you have sensitive data or IP that you need to control access, usage and sharing rights to in Microsoft 365 apps including Teams, SharePoint, OneDrive and Exchange – come talk to us. Learn how we dynamically protect data to STOP accidental and malicious data leaks. 
Join our breakout session Using Zero Trust to Protect Intellectual Property in M&E 
Track 3 from 11:00-11:30AM PST
Location: Rendez.Vu – Board Room
Presenter: Dave Matthews, Technical Solutions Manager, archTIS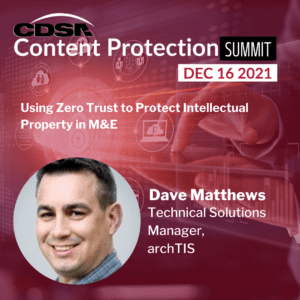 Intellectual property (IP) protection is vital to your bottom line. A leaked script, clip or game design can be disastrous to the success of any project. While today's collaboration tools have made it easier than ever to exchange ideas and information—it's also all too easy for deliberate and accidental data leakage to occur.
Learn how applying a Zero trust methodology to data access and sharing can help safeguard your most vital assets and ensure they don't accidentally or deliberately walk out the door.
Read more about the session in the CDSA newsletter.
Sound interesting, but not attending.
We'd be happy to speak to you about how NC Protect enables secure Microsoft collaboration that is simple, fast and scalable. Simply contact us to get the conversation started.