Will you be attending ESPC21 Online?
ESPC21 Online is just a week away! Nucleus Cyber is a Gold Sponsor and will have a virtual booth at the event.
Join us to discover how we leverage existing Microsoft investments to tailor protection of files, messages and chats across Microsoft 365 collaboration tools in cloud, on-premises and hybrid environments.
You can learn more about this simple, fast and scalable solution below and within our virtual booth.
Advanced Information Protection for Microsoft Applications
Get enhance data protection in Microsoft 365 applications, SharePoint Online/On-Premises, and Windows file shares.
Attribute-based polices provide data-centric, zero trust control of content access, usage and sharing.
Simply information protection and guest access in Microsoft Teams.
Unique security features to redact sensitive information, hide sensitive files from users, enforce secure read only access, apply security watermarks, and more.
Meet Us Online
Visit the Nucleus Cyber virtual booth to chat online with one of our information security experts about our unique security capabilities.
While you're there enter to win a pair of iPods Pro.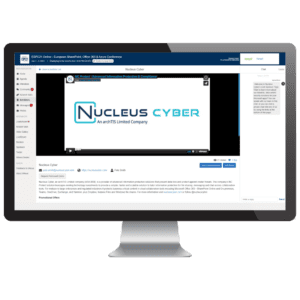 Wondering which sessions to catch?
Check out our interview with Microsoft MVP Jeff Willinger to get his thoughts on the sessions he's personally looking forward to and recommends if you're not sure which sessions to take in.