Prestigious International Awards Program Recognizes Outstanding Information Security Products and Companies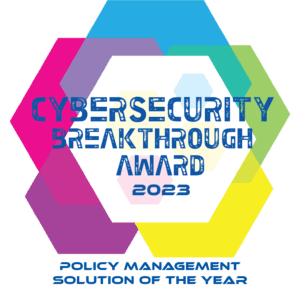 CANBERRA, Australia, Oct. 6, 2023 – archTIS Limited (ASX:AR9, OTCQB:ARHLF), today announced that its NC Protect product has won the "Policy Management Solution of the Year" award at the 7th annual CyberSecurity Breakthrough Awards. The award program is conducted by CyberSecurity Breakthrough, a leading independent market intelligence organization that recognizes the top companies, technologies and products in the global information security market today.
The mission of the CyberSecurity Breakthrough Awards is to honor excellence and recognize the innovation, hard work and success in a range of information security categories, including Cloud Security, Threat Detection, Risk Management, Fraud Prevention, Mobile Security, Email Security and many more. This year's program attracted thousands of nominations from over 20 different countries throughout the world.
"NC Protect enforces an organization's compliance policies for users and devices. NC Protect is completely transparent to the end user. With most solutions, once you have access to an application and file, it's yours. Worse, security incidents caused by insiders are hard to detect," said Steve Johansson, managing director, CyberSecurity Breakthrough. "NC Protect is our choice for 'Policy Management Solution of the Year' as it provides a proactive data-centric approach to access and security. The simple, fast and dynamic solution efficiently controls access to content, usage rights, and how authorized users can share and with whom."
The archTIS NC Protect product tailors information protection and compliance across Microsoft and file share applications using Attribute-based Access Control (ABAC) and protection policies that enforce zero trust at the data layer. NC Protect enforces compliance and data security policies for global privacy regulations, intellectual property, PCI, HIPAA, Defence information security mandates and other policies. Fully integrated with Microsoft Office 365 and SharePoint Server, it works across on-premises, cloud and hybrid environments.
NC Protect automatically finds and classifies data, and secures files, messages and chats to protect against breaches, data misuse and unauthorized access. Policy-driven controls utilize both user and data attributes to approve or deny access and ensure users can access, share and collaborate securely.
The solution uses attributes such as chat content and IP location to support compliance and business requirements. This data-centric approach enables granular control to adjust security in real-time. It also controls what users can do with the information after access is granted.
Breakthrough features also include a secure ready-only viewer, dynamic security watermarks, CAD file protection, and file integrity checks. NC Protect can redact sensitive/classified information, and logs can be sent to SIEMs for further analysis and downstream actions.
"We designed NC Protect to be proactive and dynamic as a reactive approach is no longer sufficient to manage security. Internal security incidents, due to simple mistakes, are just as prevalent as those caused by external actors. NC Protect secures information and enforces compliance requirements using contextual policy-based controls that can adapt to meet threats from wherever they might come," said archTIS Managing Director and CEO, Daniel Lai. "Thank you to CyberSecurity Breakthrough for supporting our focus on developing and applying new security solutions to enable citizens, governments and corporations to share and collaborate on their most valuable and sensitive information. This recognition complements our second Defence Cyber Security Company of the Year award in September demonstrating the momentum archTIS is gaining in the market."
About archTIS Limited
archTIS Limited (ASX:AR9, OTCQB:ARHLF) is a global provider of innovative software solutions for the secure collaboration of sensitive information. The company's award-winning data-centric information security solutions protect the world's most sensitive content in government, defence, supply chain, enterprises and regulated industries through attribute-based access and control (ABAC) policies. archTIS products include Kojensi, a multi-government certified platform for the secure access, sharing and collaboration of sensitive and classified information; and NC Protect for enhanced information protection for file access and sharing, messaging and emailing of sensitive and classified content across Microsoft 365 apps, SharePoint on-premises, NetApp ONTAP, Nutanix Files and Windows file shares. For more information, visit archtis.com or follow @arch_tis.
About CyberSecurity Breakthrough
Part of Tech Breakthrough, a leading market intelligence and recognition platform for global technology innovation and leadership, the CyberSecurity Breakthrough Awards program is devoted to honoring excellence in information security and cybersecurity technology companies, products and people. The CyberSecurity Breakthrough Awards provide a platform for public recognition around the achievements of breakthrough information security companies and products in categories including Cloud Security, Threat Detection, Risk Management, Fraud Prevention, Mobile Security, Web and Email Security, UTM, Firewall and more. For more information visit CyberSecurityBreakthrough.com.
Tech Breakthrough LLC does not endorse any vendor, product or service depicted in our recognition programs, and does not advise technology users to select only those vendors with award designations. Tech Breakthrough LLC recognition consists of the opinions of the Tech Breakthrough LLC organization and should not be construed as statements of fact. Tech Breakthrough LLC disclaims all warranties, expressed or implied, with respect to this recognition program, including any warranties of merchantability or fitness for a particular purpose.