New features including an export control material capability helps Defence and industry to meet ITAR compliance mandates easily and quickly
archTIS Limited (ASX:AR9, OTCQB:ARHLF), a global provider of innovative software solutions for the secure collaboration of sensitive information, today announced the release of Kojensi SaaS v2.0 to ensure secure document collaboration and sharing of sensitive and Export Controlled content between Government, Defence, Defence supply chain, and higher education institutions.
Kojensi SaaS is an Australian Government Accredited PROTECTED Cloud platform that enables small and large Defence Industry companies, Defence, Government, and other partners to securely share and collaborate on restricted information, all within a secure, controlled information environment. Version 2.0 assists organisations with meeting strict regulatory guidelines (e.g., ITAR and DISP) and compliance obligations for secure information sharing. The new export control material capability assists supply chain organisations with the management of U.S. International Traffic in Arms Regulations (ITAR) regulated information, including Controlled Unclassified Information (CUI), a requirement for securing U.S. Defence contracts.
Daniel Lai, archTIS Managing Director and CEO, said: "Kojensi SaaS enables Defence and the industries that support them to stand up a secure and compliant information sharing and collaboration platform easily and cost-effectively to meet domestic and international Defence information security requirements. The new Export Control Material Capability required for obtaining US Defence contracts or working with US Defence Industry partners paired with growing demand for Australian government accredited information sharing platforms, makes Kojensi SaaS well positioned for growth in the Defence Industry, particularly amongst SMEs where the cost would otherwise be prohibitive."
Key new features of Kojensi SaaS v2.0 include:
ITAR Compliant Dissemination Controls provide the ability to tag, securely manage the access to and restrict sharing and collaboration of files that may have different export controls internally, with partners and with U.S. Defence – all within a single repository that enforces appropriate information barriers.
A new in-app Secure Document Viewer enforces read-only viewing of sensitive information for multiple file formats, including CAD files.
The ability to add a custom digital security watermark containing any user or file attributes to viewed documents for security and auditing purposes.
Expanded search and classification controls to assist with granular management of content.
Improved UI for the management of notifications and process management.
Enhanced integration points for future technology inclusions.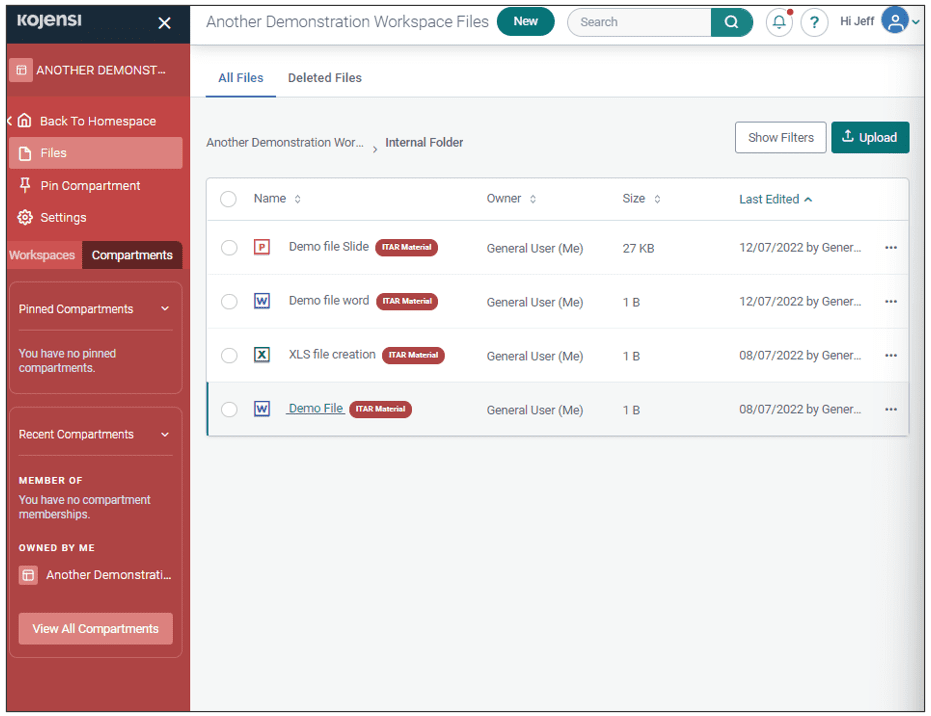 Designed to reduce administration complexity and costs by removing the need for parallel networks, Kojensi SaaS provides the ability to create, store and collaborate on documents of varied classification securely within the platform. This increases productivity and accelerates the dissemination of sensitive and classified information to inform important decision-making processes. Kojensi SaaS is government accredited and demonstrates compliance with all necessary security controls to protect government and enterprise sensitive information at the highest regulatory security levels.
Kojensi SaaS v2.0 is now available to customers. Learn more about the Kojensi platform here: https://www.archtis.com/secure-document-collaboration-software-protecting-classified-information/
About archTIS Limited
archTIS Limited (ASX:AR9, OTCQB:ARHLF) is a global provider of innovative software solutions for the secure collaboration of sensitive information. The company's award-winning data-centric information security solutions protect the world's most sensitive content in government, defence, supply chain, enterprises and regulated industries through attribute-based access and control (ABAC) policies. archTIS products include Kojensi, a multi-government certified platform for the secure access, sharing and collaboration of sensitive and classified information; and NC Protect and the cp. suite of products for enhanced information protection for file access and sharing, messaging and emailing of sensitive and classified content across Microsoft 365 apps, Dropbox, Nutanix Files and Windows file shares. For more information visit archtis.com or follow us on twitter @arch_tis.