archTIS Celebrates New Board of Directors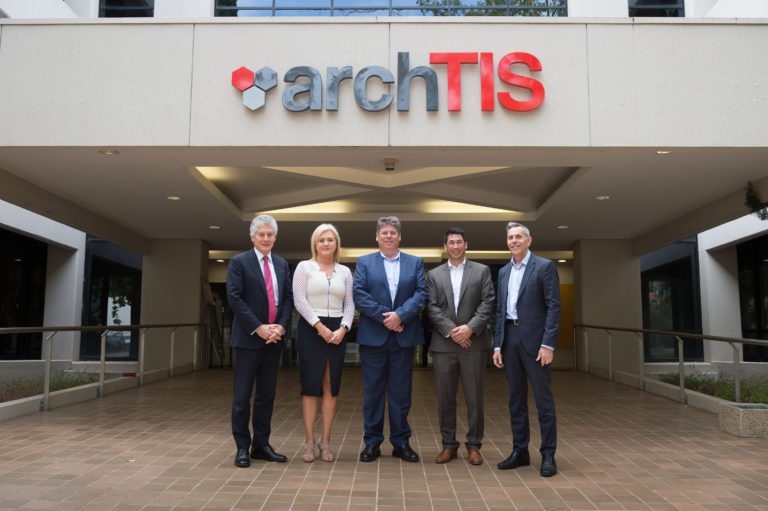 archTIS today celebrated a new board of directors and expansion of the team, including many new members based in Canberra, Sydney and abroad.
Filling the once spacious meeting room, the team gathered at an all staff meeting and listened to talks from each board member.
The expansion of the board includes a new Chairman, Mr. Stephen Smith, and two other members with specialties in finance, sales, marketing and technology.
Stephen Smith spent 20 years as the Minister for Foreign Affairs and Defence, and spoke about his hopes for archTIS and belief in the management team and the company's goals.
When talking about his decision to join the board Stephen said, "Daniel and other members of the board and team have a good reputation of professionalism, decency and competence."
"We've got a good product, and we've got a good service. That comes down to the work, the effort, the expertise and the acumen of the staff."
Also joining Stephen on the board is Ms. Leanne Graham, former head of sales for Xero and current business owner, and Mr. Wayne Zekulich, Head of Perth for Deutsche Bank.
The archTIS team has recently expanded to include over 5 new team members in the last month.
CEO and board member Daniel said, "I look at this room from where we were and I am overwhelmed by the number of people and the quality of the people here. I think we are really creating some momentum and I am very excited by the caliber of people we have put together…"
"It is going to be very exciting and it's going to be very hard work… the future is looking very bright!"
Leanne detailed her experience with Xero, and said that the reputation, the links and the skills in the company will enable archTIS to take the product not just locally but globally.
Wayne spoke positively of the scale of the business abroad saying it is necessary to plan for entering these markets now.
Based on his experience working at Deutsche Bank, "Control of who has access to what information is critical… I think a product like this is going to be absolutely necessary going forward".