We are excited to share that our CEO Daniel Lai will be a speaker at the upcoming Defence Security Summit hosted by the Defence Teaming Centre 12-13 May, 2021. We will discuss how to keep sensitive/classified information secure with increased threats and regulation aimed at the Defence Industry. In addition, as a Platinum sponsor, archTIS will also have a stand at the event. Read on to learn about what we have planned for event attendees.
Attending in person?
Join us for one of the following activities:
13 May from 1.30pm-2.20pm
The Defence supply chain has become a target for both cyberattacks and nation-state threats, as well as prone to internal threats from accidental sharing, stolen credentials and malicious insiders. As a result, there has been an increase in compliance and auditing requirements for Defense Industry suppliers under regulations such as Australia's Defence Industry Security Program (DISP) and the US Department of Defense's Cybersecurity Maturity Model Certification (CMMC). Meeting these standards is a must for organisations that support Defence's strategic imperatives and operations.
However, the level of compartmentalised access and sharing controls required for sensitive/classified information collaboration is costly and difficult to achieve for many existing or prospective Defence Industry organisations. Learn how a government accredited, classified information sharing and collaboration software as a service platform can provide these capabilities out of the box to immediately increase compliance and cyber resiliency cost effectively and with less resources.
archTIS Stand
Visit the archTIS stand during the breaks to chat with one of our information security experts about your challenges and how we can help.
Joining Online?
Visit our virtual booth for videos, resources and more.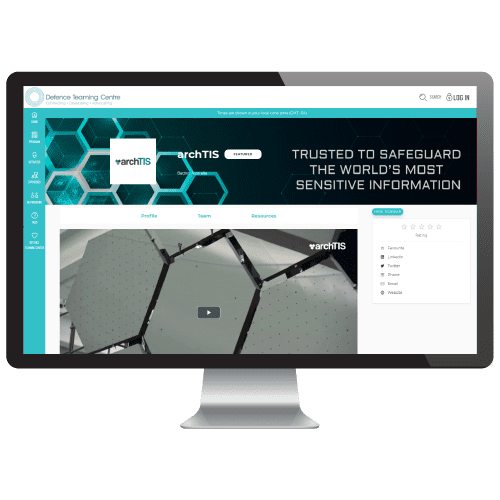 Not Attending?
If you're unable to attend, we'd be happy to speak to you about how archTIS enables secure, compartmentalized collaboration out of the box for less time and money.