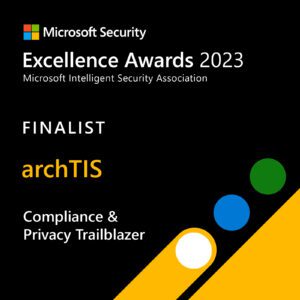 Canberra, Australia — archTIS Limited (ASX:AR9, OTCQB:ARHLF), a global provider of innovative software solutions for the secure collaboration of sensitive information, today announced it is a Compliance & Privacy Trailblazer award finalist in the Microsoft Security Excellence Awards. The company was honored among a global field of industry leaders that demonstrated success across the security landscape during the past 12 months.
Kurt Mueffelmann, Global COO and US President, archTIS stated, "We are honored to be recognized as a MISA Privacy and Compliance Trailblazer for its unique solution for solving Defense requirements for the safe handling of and application of visual markings for sensitive, Controlled Unclassified Information (CUI) and classified data. NC Protect is providing unique and valuable security capabilities that are made possible by the product's tight integration with Microsoft Purview Information Protection, Azure AD and Sentinel to enhance data protection and labelling capabilities, offering joint customers a robust, dynamic solution for tacking sensitive data handling requirements to meet government, defense and enterprise needs."
At the Microsoft Security Excellence Awards on April 24, 2023, Microsoft will celebrate finalists in 11 award categories honoring partner trailblazers, solution innovators, customer and technology champions, and changemakers. This is the fourth year Microsoft is recognizing partners for their outstanding work in the security landscape. All finalists are members of the Microsoft Intelligent Security Association (MISA), an ecosystem of independent software vendors (ISVs) and managed security service providers (MSSPs) that have integrated their security products and services with Microsoft's security technology.
"I'm very pleased to extend my warmest congratulations to this year's finalists for the Microsoft Security Excellence Awards. These are presented each year to recognize the outstanding achievements of our Microsoft Intelligent Security Association members as they improve customers' ability to identify and respond to security threats. Our community is made up of the most reliable and trusted security vendors worldwide. This year we received hundreds of quality submissions from partners and Microsoft stakeholders, so this year's finalists stood out in a crowd of exceptional talent. It's my pleasure to acknowledge and celebrate their work over the past year," said Maria Thomson, Microsoft Intelligent Security Association Lead.
MISA was established to bring together Microsoft leaders, ISVs, and MSSPs to work together to defeat security threats and make the world a safer place. The industry veterans in MISA and Microsoft will vote to select the winners of the Microsoft Security Excellence Awards, providing an opportunity for colleagues to honor their peers for delivering exceptional work to our shared customers.
About archTIS Limited
archTIS Limited (ASX:AR9, OTCQB:ARHLF) is a global provider of innovative software solutions for the secure collaboration of sensitive information. The company's award-winning data-centric information security solutions protect the world's most sensitive content in government, defence, supply chain, enterprises and regulated industries through attribute-based access and control (ABAC) policies. archTIS products include Kojensi, a multi-government certified platform for the secure access, sharing and collaboration of sensitive and classified information; and NC Protect for enhanced information protection for file access and sharing, messaging and emailing of sensitive and classified content across Microsoft 365 apps, Dropbox, Nutanix Files and Windows file shares. For more information visit archtis.com or follow @arch_tis.