Prestigious International Awards Program Recognizes Outstanding Information Security Products and Companies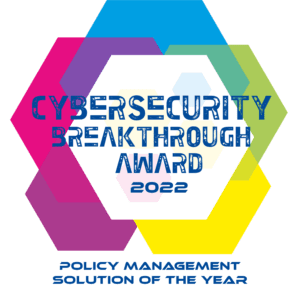 CANBERRA, Australia and BOSTON, MA – archTIS Limited (ASX:AR9, OTCQB:ARHLF), a global provider of innovative software solutions for the secure collaboration of sensitive information, today announced that NC Protect has been selected as the winner of the 2022 "Policy Management Solution of the Year" award in the 6th annual CyberSecurity Breakthrough Awards program. The awards are conducted by CyberSecurity Breakthrough, a leading independent market intelligence organization that recognizes the top companies, technologies and products in the global information security market today.
"With remote work and collaboration tools, data is traveling quickly. Unstructured data including files, messages and chat content isn't always being used and shared according to your business regulations and policies. A solution that can keep up would be a significant shift from restrictive protection like DLP or encryption," said James Johnson, managing director, CyberSecurity Breakthrough. "NC Protect offers information security that enforces compliance requirements and can adapt and meet threats from wherever they might come. Congratulations on winning 'Policy Management Solution of the Year.'"
The archTIS NC Protect solution provides a simpler, faster and dynamic solution to tailor information protection and compliance across Microsoft applications using Attribute-based Access Control (ABAC) and protection policies that enforces zero trust at the data layer.
NC Protect helps enforce compliance and data security policies for global privacy regulations, intellectual property, PCI, HIPAA, Defense information security mandates and other regulatory and business policies. It is fully integrated with Microsoft Office 365, Microsoft 365 Government Community Cloud (GCC) and more. It both shares and works across on-premises, cloud and hybrid environments.
The solution also automatically finds and classifies data, and secures files, messages and chats to protect against breaches, data misuse and unauthorized file access to enable secure collaboration. Dynamic, policy-driven controls utilize both user and data attributes to approve or deny access, ensuring users and partners can access, share and collaborate on sensitive and classified information securely.
"We're honored NC Protect is being recognized by CyberSecurity Breakthrough with this prestigious award. Our data-centric security solution protects organizations against accidental and malicious data loss from employees contractors and their supply chain. These types of challenges and threats are the inevitable consequence of using modern collaboration tools. NC Protect makes it simple for these tools to serve their purpose to increase productivity – while still safeguarding proprietary information and security according to the organization's compliance requirements. policies." said Daniel Lai, archTIS Managing Director and CEO.
The mission of the CyberSecurity Breakthrough Awards is to honor excellence and recognize the innovation, hard work and success in a range of information security categories, including Cloud Security, Threat Detection, Risk Management, Fraud Prevention, Mobile Security, Email Security and many more. This year's program attracted more than 4,100 nominations from over 20 different countries throughout the world. A full list of winners can be found here.
About archTIS Limited
archTIS Limited (ASX:AR9, OTCQB:ARHLF) is a global provider of innovative software solutions for the secure collaboration of sensitive information. The company's award-winning data-centric information security solutions protect the world's most sensitive content in government, defence, supply chain, enterprises and regulated industries through attribute-based access and control (ABAC) policies. archTIS products include Kojensi, a multi-government certified platform for the secure access, sharing and collaboration of sensitive and classified information; and NC Protect and the cp. suite of products for enhanced information protection for file access and sharing, messaging and emailing of sensitive and classified content across Microsoft 365 apps, Dropbox, Nutanix Files and Windows file shares. For more information visit archtis.com or follow us on twitter @arch_tis.
About CyberSecurity Breakthrough
Part of Tech Breakthrough, a leading market intelligence and recognition platform for global technology innovation and leadership, the CyberSecurity Breakthrough Awards program is devoted to honoring excellence in information security and cybersecurity technology companies, products and people. The CyberSecurity Breakthrough Awards provide a platform for public recognition around the achievements of breakthrough information security companies and products in categories including Cloud Security, Threat Detection, Risk Management, Fraud Prevention, Mobile Security, Web and Email Security, UTM, Firewall and more. For more information visit CyberSecurityBreakthrough.com.