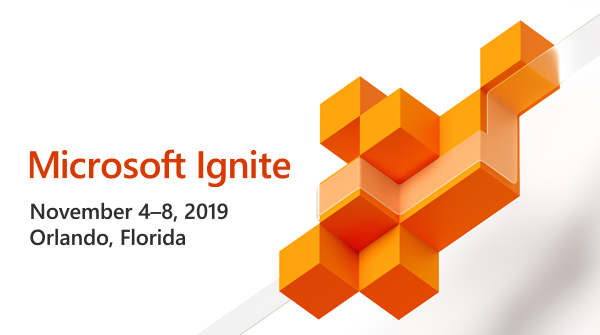 It's Microsoft Ignite! Over 25,000 attendees descended on Orlando this week to hear about Microsoft's latest and greatest across their entire business product portfolio. From a personal perspective this is a slightly unusual Ignite. For the first time in many years I have the freedom of being just an attendee – no presentation or expo booth duty – which means that I've been able to spend all of my time taking on some of the fantastic sessions. I thought I would share the top 5 things that have grabbed my attention so far this week.
5 Things from Microsoft Ignite that Excite
Teams, Teams and more Teams Unsurprisingly, Microsoft Teams is being covered in a large number of sessions. Microsoft Teams is the fastest growing product that Microsoft has ever released with over 13 million daily users and over 500,000 organisations using Teams. The number will continue to rise as customers move away from Skype for Business. The announcement that got the loudest cheer within Microsoft Office CVP Jeff Teper's session was the new Private Channels in Teams – the ability to have only a subset of members communicating within a Teams channel. There were many more announcements on products that would interact with Teams in a variety of ways that also caught my eye.
Insider Risk Management Microsoft announced an Insider Risk Management solution. The dashboard is powered by information that comes from Microsoft Graph to correlate real-time data, including communications sentiment, file activity and abnormal user behaviors, to identify insider risks. The solution is about to enter 'Private Preview'. This will be one to watch as it will provide some great insight for customers to see where they have potential risk to their sensitive content. They would then be able to use this intelligence to apply NC Protect rules to those files or locations that are potentially at risk to mitigate any damage that could be caused by an Insider Threat.
Compliance Everywhere For the first time there is a Compliance Track at Ignite with a lot of sessions demonstrating new compliance features and how they can be used within Teams, SharePoint and other apps. This was very interesting to see as someone from an organization who has a solution that straddles Security and Compliance use cases. From talking to several Microsoft employees on this subject, it's clear that this is something that Microsoft has been and will continue to heavily invest in future. One of the key technologies that features prominently in sessions of this type is Labeling.
Labels Everywhere Information Protection labels have been part of the Microsoft security and compliance story for quite some time but at this Ignite it really feels that Microsoft is extremely confident with their solution for classifying sensitive content and the importance that this feature plays in securing sensitive content. The term – Secure Collaboration – was featured prominently during these sessions. There was real recognition that with the growth of their Teams offering the risks for exposing sensitive data within these collaboration channels have increased dramatically. There were also many sessions that covered the new(ish) sensitivity labels and how to move from older versions of their labelling technology over to the new Microsoft 365 Compliance center. They also showed the updates that they have made to the Office apps themselves so that there is native integration of sensitivity labels within Word, PowerPoint, etc., as well as them now supporting co-authoring protected documents in the web-based Office apps.
MISA Security Pre-day While there are a lot of things that I can't share with you from the Microsoft Intelligent Security Association (MISA) security pre-day what I can say is that there has never been a better time to look at Microsoft Security and Compliance solutions and the enhancements that MISA partners like Nucleus Cyber are providing. MISA members joined the Sunday morning keynote with customers who were on the Security and the Compliance pre-days to hear from Microsoft's own CISO, Bret Arsenault, on the various strategies that they employee for protecting their IT. There were two parts of Bret's session that stuck with me in particular:
1) That everything on his CISO's agenda is for the purpose of Information Protection;
2) And the slogan from the t-shirt that he skillfully drop-kicked from the stage into my hands:
"Hackers don't break in, they login."
Many sessions still to go!
There are still a couple of days to go here in Orlando and my schedule planner has had at least 3 sessions per time slot during the first half of the week. I'm sure that there are many things, even within the areas of Security and Compliance that has been my focus, that I have missed. Once the dust settles after Orlando and I'm back in the Nucleus Cyber offices I'm sure there will be many more things to share in a future blog. Until then, I suggest that you take a look at Microsoft Mechanics video channel where a number of sessions are being presented live from the show floor.