Protecting Sensitive Data in Cloud Storage and Sharing Tools
Cloud-based storage and share tools have improved collaboration and seen rapid growth; in particular, Dropbox, which has nearly doubled its paying user base over three years. Companies rely on these collaboration tools to facilitate communication and improve productivity, which also means these platforms are teeming with sensitive data from intellectual property (IP) to customer information. This surge in use has caused companies to struggle to identify and secure sensitive information within cloud storage platforms because of the very reason they have become so popular—the ease of sharing files with almost anyone inside and outside of the organization.
While Dropbox has security capabilities, sensitive information is still at risk from accidental sharing and misconfigured settings caused by human error. To address these risks, NC Protect now supports identification, conditional access and protection of sensitive information in Dropbox and Dropbox Business. 
Granular, Conditional Access for Dropbox Files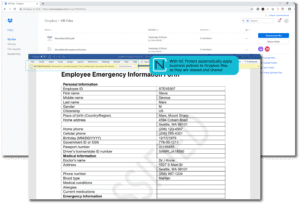 NC Protect's core content and context aware data protection controls dynamically adjust access and protection of file content within Dropbox to ensure an organization's sensitive data is being used, and shared, according to its unique regulations and policies. The same NC Protect policies can be used to monitor content in Dropbox, Dropbox Business and other supported platforms, including Microsoft SharePoint, Office 365, Teams, Yammer and file shares, to provide a single, centralized data security solution for all supported platforms.
Key capabilities of NC Protect for Dropbox and Dropbox Business include:
Identify documents in Dropbox with sensitive data or files in breach of corporate or legislative compliance.
Automatically classify, restrict access to and encrypt content based on the presence of sensitive data including PII, PHI, IP and other factors.
Protect sensitive information being shared with unauthorized users via Dropbox.
Audit trails and forensics to track access to sensitive data to ensure transparency and accountability.
Dynamically add a watermark to Word, PowerPoint, Excel and PDF documents for security and auditing purposes.
Adding Dropbox  support to the NC Protect platform empowers customers with a single solution that protects content across their entire suite of collaboration tools to safeguard sensitive data against theft, misuse and human error resulting in data loss.