archTIS to present product brief at MilCIS on secure collaboration for Defence and partners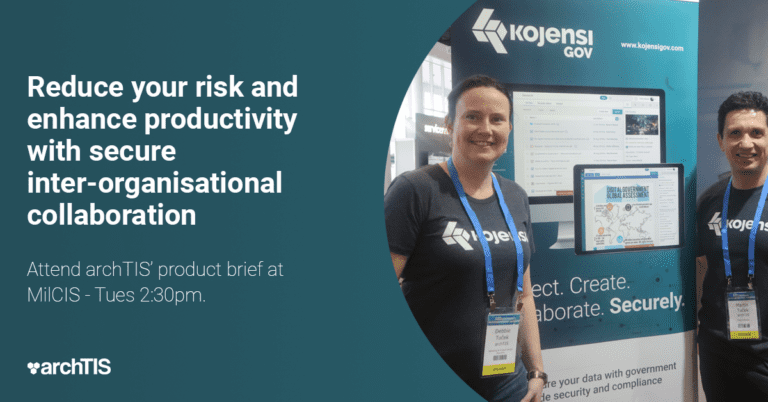 "Need to collaborate with government agencies, services, units or industry partners? Collaboration is critical for increasing productivity and speeding decision-making processes. For Defence, however, collaborating on classified content has proven challenging – not only within and between services, but also with members outside their agencies, be they remote workers, contractors, consultants or personnel from collaborating agencies. Defence needs to provide differentiated access to information in order to 'get the job done', but at the same time ensure that sensitive or classified content is not exposed to unauthorised personnel."
Debbie Tucek, archTIS' Product Design and Marketing Manager, will be presenting use cases for secure collaboration through archTIS' Kojensi Gov platform at MilCIS 2018. Taking place Tuesday 13th November at 2:30pm, the product brief will demonstrate how Kojensi Gov can enable multiple organisations to rapidly stand up a shared digital workspace and collaborate within and between agencies and industry.
Hosted within an accredited PROTECTED cloud environment, Kojensi Gov enables users from diverse security classifications, nationalities and organisations, to share and collaborate on those information assets that are needed and authorised for their use. Each user receives a personalised view of the content based on their security clearance, nationality, organisation and other security and sharing settings.
Authorised industry personnel and consulting staff can gain secure differentiated access to the shared workspace and commence work straight away on unclassified content provided by Defence. Higher security clearances can be applied dynamically at a later date to give contractors access to relevant classified content upon their next login to the same shared workspace.
For more information on Kojensi Gov, please visit our Kojensi Gov site. Those attending MilCIS can attend the product brief or visit the archTIS stand, located inside the ACT Government Team Canberra booth. Entry to the exhibition hall at the National Convention Centre is free.
Those unable to attend can request a private demo by emailing info@archtis.com.