Webinar: Tips for Secure Collaboration & Guest Access in Microsoft Teams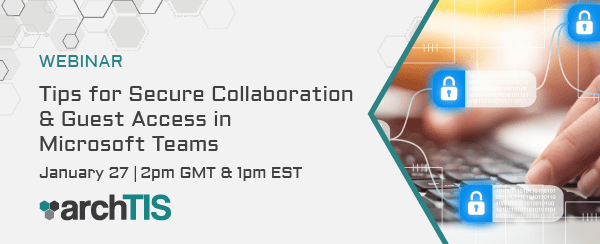 When Microsoft Teams is not managed properly it can lead to issues that damage the business value it delivers and leave the company exposed to risk from data misuse. If this sounds too familiar or has you worried about adopting Teams, there is hope. It is possible to reap the vast benefits of Teams collaboration without governance and security headaches.
Join archTIS Technical Solutions Management experts for guidance on how to roll out or enhance your Teams deployment with dynamic data security to guarantee adoption and secure collaboration – quickly and easily.
Attend this webinar to learn:
The dynamics of Teams and complexity of how data is shared under the hood
How to provision secure Teams sites, channels and guest access with a few clicks
How to dynamically control access to and protect Teams files and chat content, and the M365 apps that underpin sharing
Register for the Americas Webinar!
January 27 1:00PM – 2:00PM EST
Register for the EMEA Webinar!
January 27 2:00PM – 3:00PM GMT